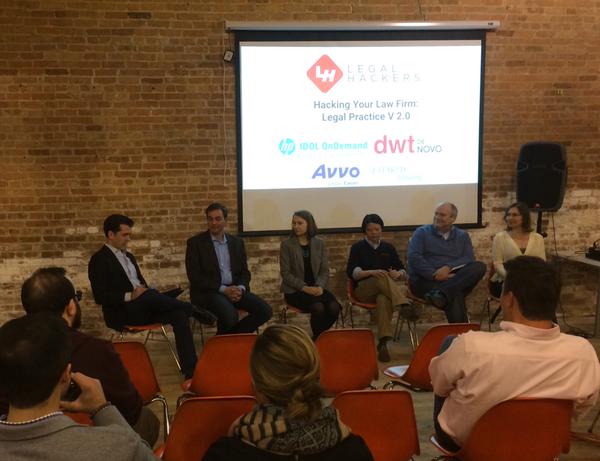 Legal industry innovators from around the world are converging in Chicago this weekend for the first-ever Legal Hackers Congress!  With representatives here from Chicago, Detroit, New York, DC, Los Angeles, Seattle, Portland, Nashville, North Carolina, Miami, and even Stockholm, Sweden, we could not be more excited to celebrate the growth of our community.
Kicking things off last night, Jonathan Pasky moderated "How to Hack Your Law Firm," a panel featuring both products for more efficient practice and the firms those products are intended to serve.  Panelists included Stephen Nazaran of PageVault, Aileen Tien of kCura (creators of Relativity), Irina Matveeva of NexLP, Amani Smathers of Seyfarth Shaw LLP, and Jay Hull of Davis Wright Tremaine LLP.
This morning, Dan Linna of MSU Law School briefed us on the importance of improving our profession's responsiveness to consumers' needs, noting that the United States recently ranked 66th out of 98 countries in overall access to and affordability of civil legal services.  Dan and others in Detroit and Chicago are bolstering our presence in the Midwest and will host the first Chicago-area legal hackathon on June 6 and 7 (details here).  We also heard from Larry Bridgesmith of Vanderbilt Law School on innovation in the legal academy and the exciting growth of Larry's chapter, Music City Legal Hackers.
On the international front, we checked in remotely with Daniel Santiago Acevedo in Colombia, Astrid Baldissera in Barcelona and (in person) Robert Gullander of Stockholm Legal Hackers.  Congratulations to all of these outstanding new chapters!
The morning session closed with a talk by LH advisory board member Sarah Feingold, Etsy's first in-house lawyer, who shared wisdom from her eight years with one of New York's premier startups.
More to come after lunch!