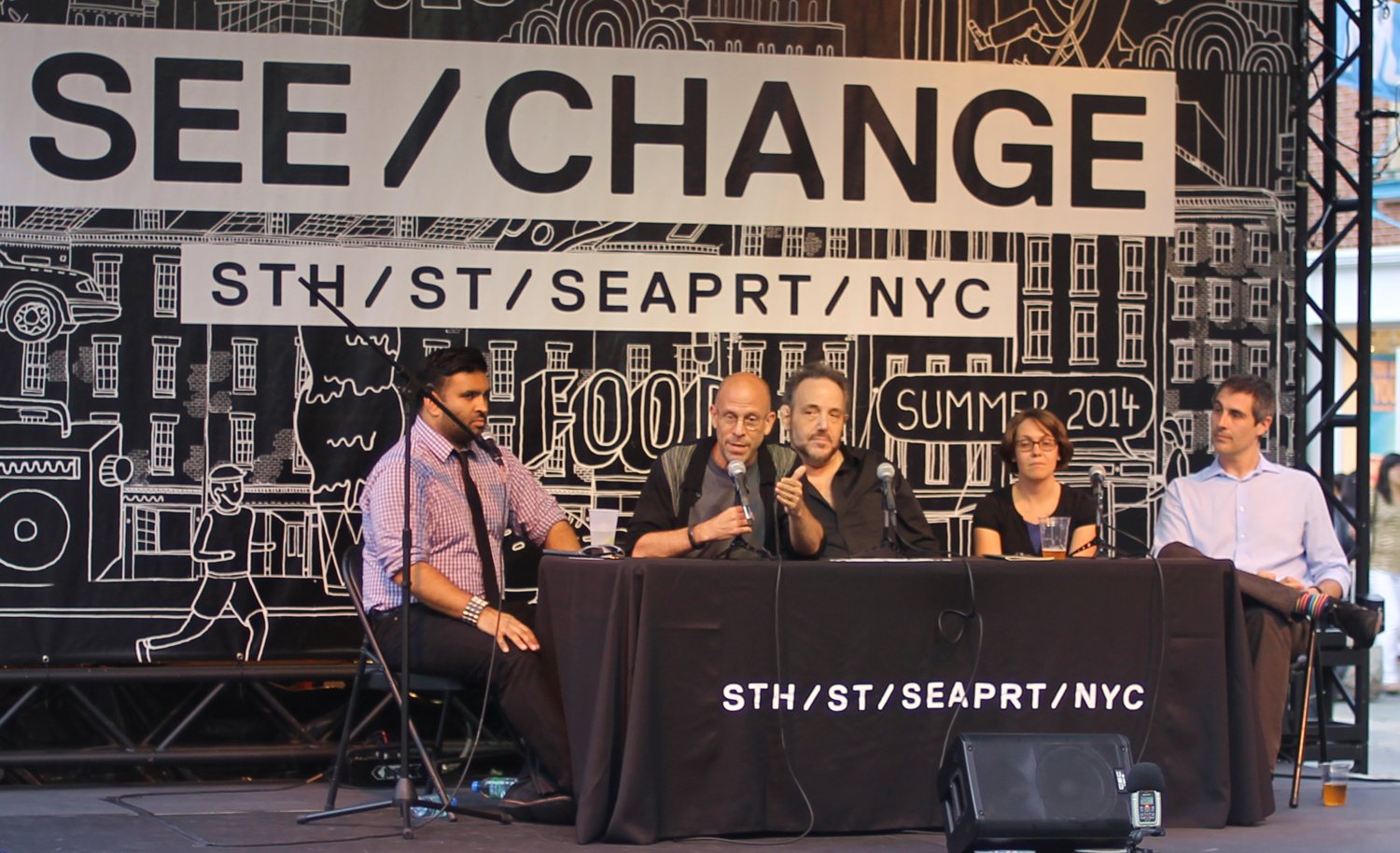 The FCC recently received over 1.1 million public comments from citizens, businesses, and community organizations on the Commission's response to recent court rulings that severely limited its authority to regulate the internet as an "information service" under Title I of the Telecommunications Act of 1996.  It was under Title I that the FCC had previously enforced net neutrality–or the principle that ISPs should treat similar Internet traffic similarly–through the Open Internet Order of 2010, which was nullified by the D.C. Circuit earlier this year.  The FCC has been sent back to the drawing board with a decision to make: should it allow ISPs to discriminate against end users, or reclassify the internet as a Title II "telecommunications service" on par with the telephone to preserve the Open Internet Order?  NY Legal Hackers took the call: is there a way to tackle this problem without FCC authority at all?
Last week, New York Legal Hackers assembled a diverse panel of experts, moderated by Nilay Patel, Editor-in-Chief of The Verge, to take on these challenging questions.  He was joined by Professor Jonathan Askin of Brooklyn Law School, a former telecom lobbyist and FCC attorney; Bruce Kushnick, a veteran telecom analyst and Executive Director of the New Networks Institute; Althea Erickson, Policy Director at Etsy; and David Pashman, General Counsel at Meetup.
Askin illustrated the evolution of our internet and how its importance has made net neutrality not just a matter of civil rights, but also an international economic issue.  Professor Askin endorsed the Netherlands' recent codification of net neutrality by statute and suggested we might attempt the same.
Kushnick sharply criticized telecoms (Verizon in particular) and illustrated inconsistencies in its position on net neutrality, specifically its assertion that broadband internet falls under Title I.  Not only do Verizon's available services and fiber-optic infrastructure suggest a Title II common carrier, Kushnick said, but the company even went so far as to file a cable franchise agreement with the State of New York last year in which it explicitly declared itself a common carrier.
Erickson and Pashman presented the startup community's perspective and the notion that net neutrality plays a major role in the success of their employers.  Erickson described net neutrality as a necessity that creates a level playing field for large and small providers of the same online product.  Specifically, she pointed to the relatively anticompetitive market for ISPs, cautioning that the major providers will only grow in size and strength if not restrained by federal regulation.  Pashman emphasized the startup investment boom under the system of de facto net neutrality that has existed to this point.  Startups will be handcuffed by the FCC's current proposed rules, he said, due to the gradual impact of paid prioritization on the end user experience.  He warned against allowing ISPs to control paid prioritization pricing should the new regulations be upheld, as the new rules appear open to manipulation and could leave consumers defenseless.
Thanks to our panelists and moderator for an insightful discussion, to our sponsors, Clio, the Internet Society (ISOC) – NY Chapter, and, in particular, LaunchLM for hosting us at the South Street Seaport!